You may be wondering what the hell 'spring break wing break' means.
Let me fill you in.
My older brother is one of the funniest people I know. In fact, I once made the case that men are funnier than women (generally speaking) because I couldn't think of a woman who is funnier than my brother Mark. Watching him and Dann interact the first time they met was magical and hilarious. If you know him, you know what I mean.
Since Mark is a high school English teacher, he also gets to enjoy the benefits of spring break every year. A couple years ago, we were talking about a place called Woody's Wings where neither Dann nor I had ever eaten. We made plans to meet there for lunch during spring break since we both had the same week off. It was there that Mark proclaimed "Spring break wing break!" in his best imitation of a drunk frat boy. It cracked me up and then it stuck.
Last year, we had spring break wing break at Mark and Brittany's house. I made the cupcakes.
So now it's year 3, and spring break wing break has become a full-fledged annual tradition.
This year we started things off at our parents' house.
My mom made chocolate chip cookies from scratch and I taught her and my dad how to play Plants Vs. Zombies on the iPad.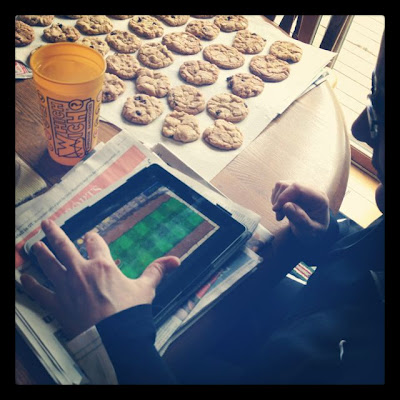 We watched UNC lose to KU, which was a bummer.
But then my dad grilled the wings and we feasted. He makes regular wings with Frank's hot sauce, but he also makes these spicy Asian wings (in the photo at the top) with all kinds of other crazy stuff and they are delicious. If you ask, I can probs get you the recipe. It was a good way to start off the break.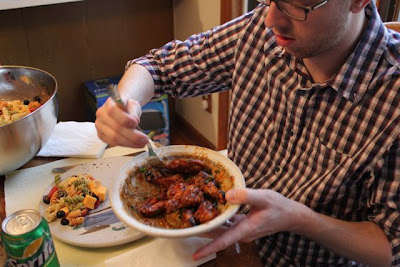 Dann and I met up with Mark and Brita a second time for wings on Friday, making this the most-celebrated spring break wing break yet. Maybe next year you'll all be invited.
We hit up the Wingman in Parker for lunch and it was a tasty treat. When we got there, I was telling Mark and Brittany about how I'd been feeling poorly for most of the week and had even blogged about it that day. Mark said: "Yeah, I saw that you updated it (the blog). But then I went to the driving range." I think he meant it as: "I didn't get a chance to read your blog post yet because I had to get to the driving range before it was too late to go. Normally I jump at the chance to read the kind of brilliance you contribute to the Internet, Jenny." That's what I think he meant.
It was a good break, even if it didn't all go the way I wanted it to. Not that I'm counting, but there are 40 more school days until summer and I cannot wait.
Do you love eating wings? Do you have any funny family traditions like spring break wing break? Are you also sad because you have to go back to school tomorrow?